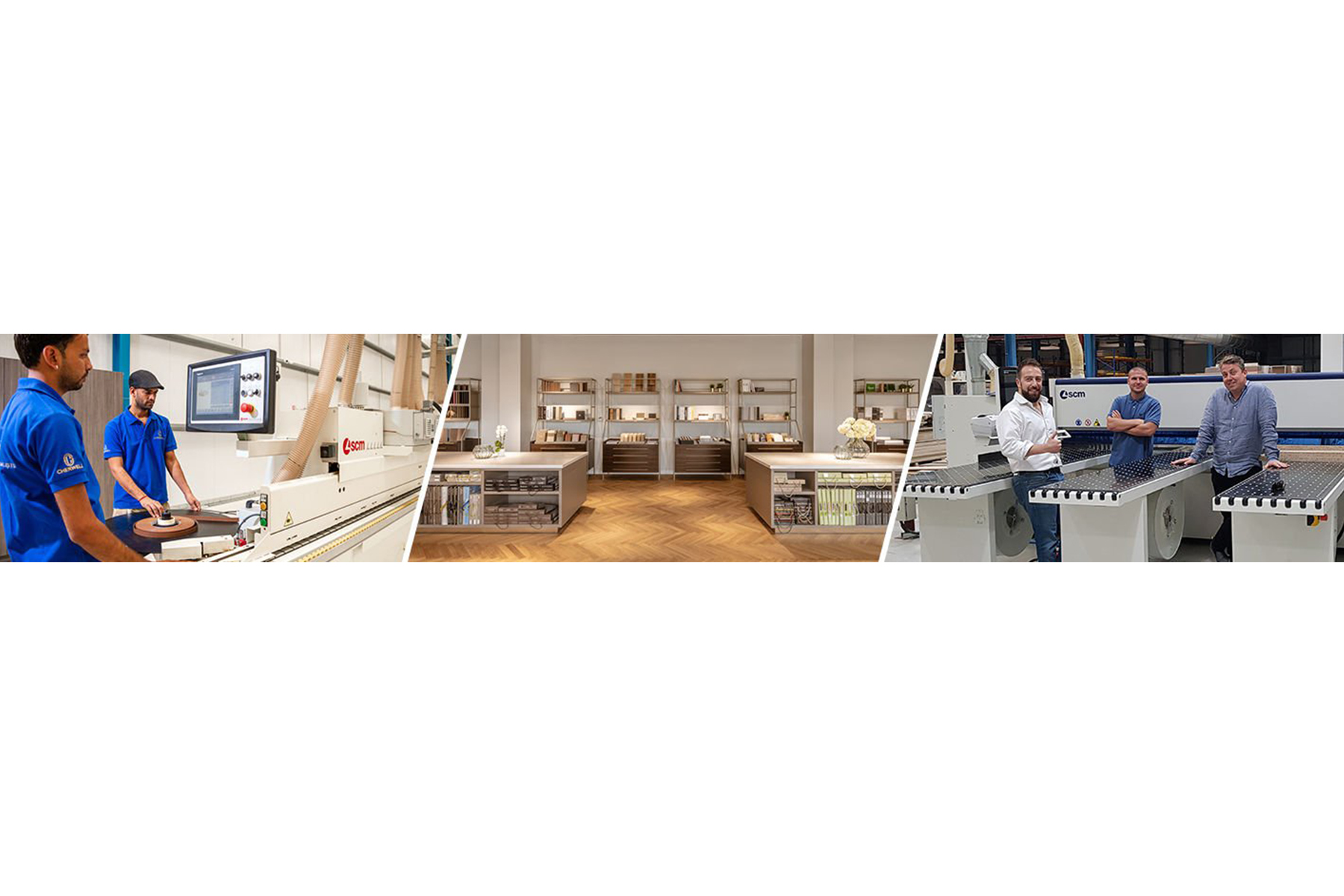 A "TURNKEY" SCM FACTORY
A "TURNKEY" SCM FACTORY
SCM has supplied to Cherwell, a Dubai-based company specialising in customised furnishings for residential and commercial buildings as many as 20 different technologies. the result was a significant improvement in product quality, combined with greater accuracy in the various processing phases and a considerable increase in productivity.
It all began in 2014 with a small company – Creations – producing quaint children's playhouses. The natural evolution and next stage of development meant the creation of Cherwell – bespoke interiors specialists based in Dubai, U.A.E. The enterprising company evolved by devising full ft-out and interiors for the residences of discerning clients. Today, Cherwell is a high-end joinery and ft out company specializing in the residential market.
According to Tom Brooks, Owner, Cherwell, it all comes down to what the company believes in the first place: producing quality, in an environmentally sustainable way with excellent client communication and the core values of investing in its workforce and loyal customers. These are Cherwell's keys to success. As such, their experienced team creates fantastic spaces for residential and commercial clients. Cherwell also have their own specialist joinery division who design and build truly custom kitchens, dressing rooms, bathrooms and loose and fixed furniture. This is complemented by their knowledgeable in-house contracting team who can execute all other required works to the expected Cherwell standard.
Working with small traditional machines, Cherwell were able to execute projects but were limited to an extent. According to Brooks, they contacted SCM and asked for more advanced technologies. Diego Piersanti, Commercial Director SCM Middle East, responded with a strategy for Cherwell's development plan and the rest is history. "Now have a state-of-the-art factory capable of delivering high quality in a short time thanks to our capacity and flexibility. Reliable technology gives us peace of mind and lets us focus completely on our company development and customers' satisfaction. Our operators feel confident working on easy-to-use equipment, and the possibility to work and to be integrated with third-party software makes the whole process very efficient and streamlined from the design office to the one ready for delivery," said Brooks.
SCM provided Cherwell with 20 different technologies. The beam saw gabbiani pt with integrated rear loading table and the Flexcut device (double-independent pusher) allows for incomparable flexibility and productivity. Cherwell has been able to enjoy increased productivity of up to 30 percent and space saving up to 20 percent owing to the simultaneous execution of both rip and cross cuts.
Also supplied was the edge bander olimpic k 560, which allows for a perfect joint line on account of the 'SGP' glue pot that features perfect dosing and a special spreading roller. The use of EVA and Polyurethane glue is made possible by the anti-adherent plasma treatment and a fast and simple glue changeover. As such, 12 mm solid wood lipping for panels up to 60mm thick is possible.
The throughfeed moulders superset nt with 7 heads (composition 31, 6+universal) allows for increased productivity as the system enables the operator to change tools and perform adjustments in just a few seconds, decreasing set-up times by up to twenty times. The new electronic control MOBILE PC also makes machine programming intuitive drastically, providing clear and precise information and reducing the possibility of human mistakes. The machine is configured to execute workpieces up to 260 mm width for the finished section.
SCM also provided Cherwell with a 5 axis CNC morbidelli m100 that has a 5.5m working area that allows the company to process doors with maximum productivity thanks to the possibility to load/unload one side while the CNC is working in the other side. 5 axis also means the highest flexibility to support any design that projects may require.
According to Brooks, the introduction of a suite of SCM machines in a bespoke designed and purpose-built large facility has enabled Cherwell to work on bigger scale projects whilst not compromising quality. Having the latest technology has also meant they can keep a high level of design integrity whilst still looking at higher volume projects. This is an area that is often compromised when scale is introduced. With a one-stop shop with SCM, Cherwell now have machines from classical, through volume and specialist (5 axis). "Cherwell has always tried to offer our clients a high-quality product delivered in a timely fashion. SCM's machinery has helped us not only improve, quality and accuracy but also productivity. The fact that SCM offers a full suite of machines means that we only have to maintain one relationship for service, maintenance and spares which also goes a long way to minimizing down time. SCM was also very helpful in the design process for our facility, helping consider work flows," concluded Brooks.
Credits: Timber Design&Technology
Source : Website